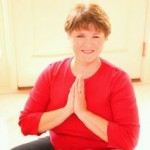 Yoga as practiced and taught in our achievement oriented Western culture is usually a very external, physical goal-focused thing. It is all about "getting the pose," or "losing weight," or maybe using asana practice as a way to get ready for a marathon or triathalon. It is exercise. None of those goals are bad in and of themselves, but people cheat themselves of all the practice has to offer when they choose to stop with the superficialities.
It is unfortunate that most people are unaware that yoga is so much more than simple exercise. After all, if you just want to improve aerobic fitness or get ready for an athletic event, you can always run to the Y or across the street to the 24 hour gym to get your exercise fix. Take a spin class or a step class or go for a run on a treadmill, perhaps. Why bother going to a yoga studio at all and typically dropping between $16-$18 per drop in class? When an uninformed person goes to a studio and spends this money, or "joins" the studio for a fixed price, all you can drink attendance package with a contract, they think they are getting all that yoga is, and the fact is, they just aren't. They are missing yoga's finest, most powerful and important parts, and some of the reason for this is that most western trained yoga teachers are never taught how to teach yoga's deeper, more powerful, medically and psychologically effective practices.
When I trained in Subtle Yoga(TM) with Kristine Kaoverii Weber and Samantha Leonard all those years ago, I was exposed to a yoga I had never before seen. I went into training expecting to learn how to teach a Power Flow class, and that is not what happened. I am so so grateful it didn't. That teacher training taught me what it meant to show people how to "innercize,"  and that is what I have been teaching ever since.
In yoga, there are these things that I will call here the Layers of the Self just to simplify. A good yoga class will tend to all of the Layers of a Person, not just the outer, physical layer, although that is certainly important. Focusing just on externals doesn't help a person to realize their deepest, most honest self. Externals don't help a person confront and deal with trauma, chronic depression, abuse, anxiety, fibromyalgia, epilepsy, heart disease, diabetes, or even cancer. Externals don't help a person release the fear stored in the body. Externals don't give a student tools for self examination and self honesty. Externals don't help us confront even our own mortality. Externals don't improve overall mental health the way innercize does.
Finally there is a large body of research in the medical community that supports these claims.  You can find research into how yoga works from a medical perspective in places like JAMA(The Journal of the American Medical Association), Pediatrics, Medical Hypotheses,and the Journal of Alternative and Complementary Medicine. Externals don't lead people like Dr Stephen Porges to write at length about Polyvagal Theory, or Dr Peter Levine to study trauma extensively and develop thoughts about how movement can help release it, or David Emerson and Dr Bessel Van der Kolk to write about how our bodies hold onto traumatic experiences in a way that can lead to things like high blood pressure, heart disease, and even PTSD.  YOGA CAN HELP TREAT ALL OF THESE THINGS if offered by a well trained, thoughtful yoga professional. By professional, I mean someone that actually reads the medical journals and incorporates practices into class offerings based on the research. That's why our classes constantly evolve as we learn more and more. Everything we do here is evidence based.
I arrive now at my point. Those of us here at Mint Hill Yoga are professionals. We don't choreograph workouts, we provide solutions to pain, both inside and outside. We offer paths to growth. We offer potential for physically stronger, emotionally deeper, most honest lives.  And we can prove it.
Come see for yourself. If you would like to take a look at the research, I am very happy to share. Below are some links you might find interesting.
http://yogafordepression.com/wp-content/uploads/MedicalHypothesisPaper.pdf
https://www.ncbi.nlm.nih.gov/pubmed/17532734
http://www.jpsmjournal.com/article/S0885-3924(06)00683-X/fulltext
https://www.ncbi.nlm.nih.gov/pmc/articles/PMC3817894/
http://www.onlinejcf.com/article/S1071-9164(07)01166-9/abstract