INDIVIDUAL WELLNESS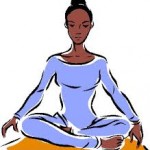 According to the International Association of Yoga Therapists, "Yoga therapy is the process of empowering individuals to progress toward improved health and well-being through the application of the philosophy and practice of Yoga."  Tools learned in her time at the Holistic Yoga Therapy Institute position Bettie not to diagnose, which is the job of a physician, but rather to adapt the tools of yoga to suit the mental, emotional, physical and spiritual positioning of the client allowing them to realize and reach their full potential as healthy individuals and active members of society, enjoying life to its fullest.
Please contact Bettie Shea directly at 704-835-0894 for information about how Therapeutic Yoga can help you as an individual to manage symptoms and feel your best! Pricing information is available for current Mint Hill Yoga clients as well as those new to Mint Hill Yoga.
CORPORATE WELLNESS PROGRAMS
Corporate Wellness programs are also available. The world renowned Cleveland Clinic recognizes the benefits of yoga and offers Come as You Are Yoga classes to their staff to reduce stress and increase productivity in their employees. Contact us to see how we can create a similar program for any corporate culture and watch employee satisfaction and productivity increase and absenteeism decrease.