On a personal note, I need to tell you before you even read this how fond I am of Linda, and how much I love the practice of viniyoga. When I practice at home on my own, these are the techniques I turn to time and time again to bring me to a place of total peace and comfort.  I honestly hope you will consider coming to see what amazing things Linda will be bringing to our little jewel box Thursdays at 5:30pm starting  September 4. Preregistration is recommended, and is available on the Classes page of our website.  Bettie Shea, Owner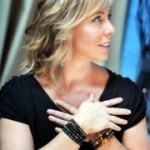 Viniyoga Flow with Linda Nickolenko
"What is Viniyoga?"
Viniyoga is often referred to as "breath centric yoga."  The primary focus of this yoga class is to help students connect to and understanding the transformational relationship between the their breath, mind and body through the use of postures, breathing techniques and meditation.  Each class is sequenced to link awareness to breath and movement to strengthen weaker muscles, increase range of motion, increase mental clarity and reduce tension and increase energy in the body.  This class teaches students how to maintain a sustained and growing yoga practice and is the perfect compliment to all other styles of yoga.  Students who will benefit from this practice:  Everyone!
But more specifically, students who may be affected by:
Stress/Tension
Chronic Pain
Back Ailments/Pain
Depression/Anxiety
Joint Pain
High Blood Pressure
Recovery from Injuries
Cancer Recovery/Survivors
Asthma/Respiratory Issues
Attention/Concentration Difficulty
*Linda is also a Certified Prenatal Yoga Teacher and will modify postures in classes as needed for beautiful mommas.