Mint Hill Yoga moves one step closer to being a complete holistic wellness center with the addition of a Holistic Psychotherapist to our team of practitioners beginning in August!! Please join all of us in welcoming Dr. Danielle Edwards to Mint Hill Yoga!!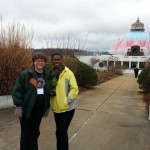 A note from Dr. Edwards:
Greetings Yogis! I am Danielle Edwards, Ed.D., LPCS, NCC.  I have practiced in mental health and public school administration for over 19 years in North and South Carolina. I am a practicing psychotherapist and Licensed Professional Counselor Supervisor.
I believe that my clients are fundamentally whole and capable and that it is my role to assist them in expanding their resilience and sense of well-being. Recognizing that we are not just mental and emotional beings, but also physical, my work typically utilizes body and breath awareness as a key way to access inner responses and resources.
My areas of specialty include anxiety, stress, trauma, family relational issues and active intervention (problem-focused and goal-directed treatment). My work has many different sources of inspiration, but the core modalities I use in my work are Yoga-enhanced Cognitive Behavior Therapy, Mindfulness, Solution-Focused, and Brief Dynamic Therapy as well as Meditative Therapies. Evidence suggests that body-based therapies, coupled with psychotherapy work exceptionally well in remediating the effects that trauma cause within the body (e.g. helplessness, rage, depression…). The emphasis on mindfulness brings a here-and-now immediacy and practicality to the work, and clients learn a way of being that allows them a greater sense of being grounded in their own experience: mentally, emotionally and physically.
Psychotherapy assumes we are capable of a greater degree of conscious control of our lives. Rather than relying solely on medication or on societal rules, it allows individuals to grow and improve their lives using various other techniques and approaches.
I invite you to contact me at (704) 793-8827 to experience Yoga-enhanced Cognitive Behavior therapy here at Mint Hill Yoga Studio! I look forward to joining you in therapeutic dialogue, meditation and bodywork according to your specific needs!