Safe, Gentle Yoga for EveryBody since 2011. Small classes, friendly faces, experienced teachers.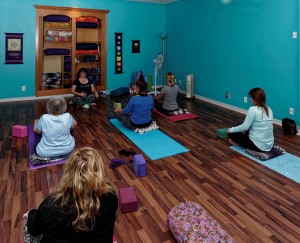 A Note from a Student
I've been attending Bettie's gentle yoga class at Mint Hill Yoga twice weekly for the last year and several months. I cannot overstate how yoga, and in particular Bettie's approach to yoga, has changed my life. In my late 40s, I was nonathletic, sedentary, and often felt joint and muscle pain. I felt sluggish and depressed or anxious much of the time. After several visits to the doctor I was advised to get some exercise and in particular to STRETCH. I began walking several days a week. I started to feel better but I was still taking Ibuprofen twice a day everyday and still often feeling low. At about this same time I had begun to read about the benefits of meditation and mindful living and started to try to incorporate some of this into my daily routine. Yoga was often mentioned as a beneficial practice for increasing mood and for increasing flexibility and strength, and seemed to be exactly what I needed. I did a little research but after seeing what it entailed and watching some instructional videos I was sure I would not be able to bend into those crazy poses let alone jump from one to the next! I decided I was too old and not athletic enough for what I was seeing. I accidently discovered Bettie's studio tucked away in downtown Mint Hill while out shopping one afternoon. I was curious and looked it up online. After reading Bettie's description of what she does I felt like maybe this would be possible for me. Too embarrassed to even try a class I called and asked if I could talk to her about whether yoga was right for me. I am so glad I did! Bettie was so confident I would benefit and she assured me she had students of varying degrees of skill of all ages and class sizes were small enough that she could accommodate any special needs or injuries with modifications. After the first class it felt like I had just unwrapped a big present to find yet more presents inside. I was surprised to discover each class incorporates so much more than just the movements I thought of as yoga. Every class has a lesson about the benefits or principles behind yoga, breathing exercises and how to use them for specific purpose, of course the yoga poses for strength, balance and flexibility, followed by a few minutes of reflection and meditation. In every class Bettie demonstrates her impressive knowledge and understanding of the human body and mind-providing instruction and modifications for each person so that they perform each exercise safely with maximum benefit. It has been inspiring to watch other people in the class progress just as I have. After a year I can say that yoga has become a part of my life that I don't ever want to be without. I cannot even begin to describe the benefits. I feel stronger and more flexible, I walk differently, I feel more energetic yet calmer. I just feel better.